Advent calendar 2022
ORDER NOW TO GET A COMPLIMENTARY JAR OF SVENSKJÄVLAR! (VALUE 89SEK)
26 flavors with liquorice! Start munching already on November 29th because we know you can't wait until December 1st.
In this year's Advent calendar, you will find 90g more sweets than in last year's calendar. 75% salty licorice mixed with a little sweet, one sour and one really hot!
14 of the flavors can only be found in the calendar and included is also the Gottegrisens Julsaga (a stickers book) and a beautiful bag (value 49kr).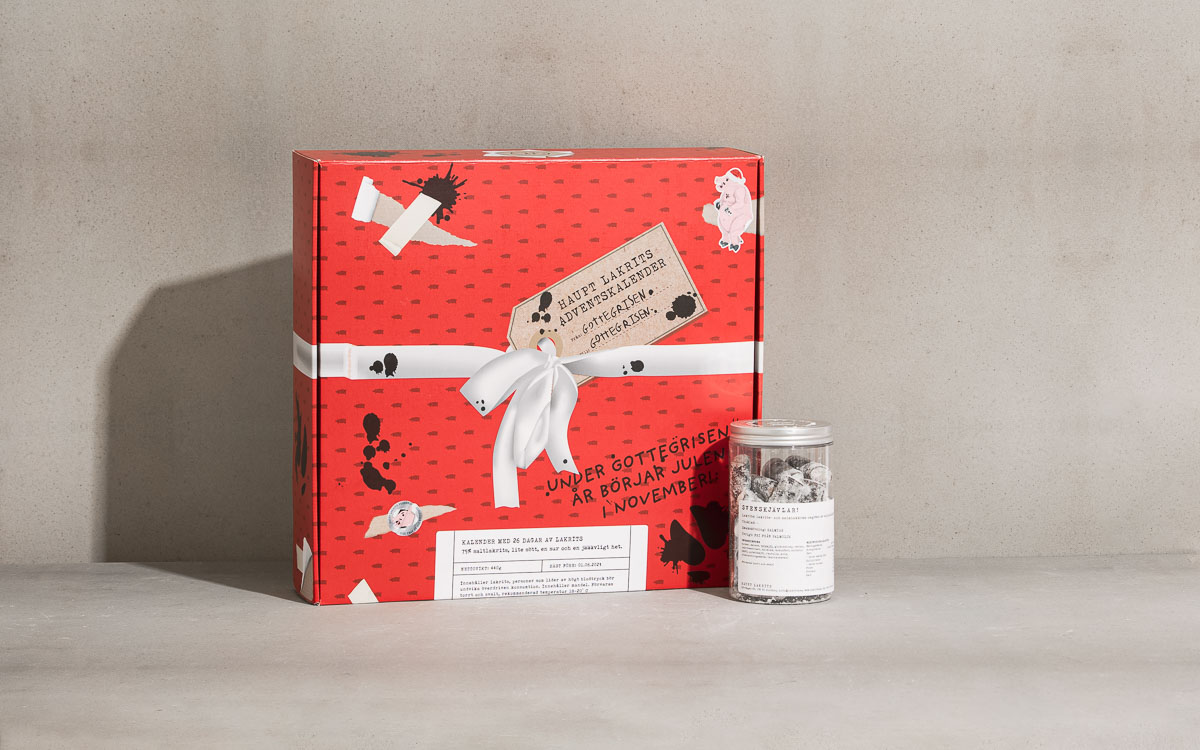 ADVENT CALENDAR 2022
Licorice calendar with 26 different flavors and a jar of svenskjävlar!
Product details
Information
Licorice calendar with 26 different flavors and a jar of svenskjävlar!
WEIGHT
440+250g
INGREDIENTS
Belgian white, light, dark and dulce chocolate (sugar, cocoa butter, milk powder, cocoa mass, emulsifier: soy lecithin, natural vanilla flavor, 2% brown sugar, caramel powder with milk fat, skimmed milk powder, whey powder), syrup, wheat flour, corn flour, gluten-free oat flour , potato flour, sugar, invert sugar syrup, cane sugar, 12.5% raw licorice, salmiak, licorice extract, molasses, star anise, vegetable oil (sunflower oil, rapeseed oil, coconut oil) glucose syrup, anise oil, star anise, coconut fat, muscovado sugar, sorbitol (E420), surface treatment agent (carnauba wax), water, date paste, cashews, coconut flakes, licorice root, smoked sea salt, chili, Carolina reaper chili, cayenne pepper, saffron, saffron syrup, 3% dried violet flowers, 2% crystallized violet flowers, freeze-dried berries and fruits (lingonberry, beetroot, raspberry, lime, black currant), aroma and essence (viola aroma, punch essence, arrack aroma, lemon aroma, black currant aroma), cinnamon, cardamom, cloves, ginger, baking powder (E500), fennel seed, glycerol E422 (rapeseed s), coloring (E153 (vegetable carbon), turmeric, carrot, beetroot, spirulina extract), gentian root, coriander seed, wormwood, China bark, nutmeg flower, coffee bean "FIKA", almond, honey, Piment d'Espelette. Cocoa content: at least 35%.
NUTRITION FACTS
| | |
| --- | --- |
| Energy | 1750kJ/418 kcal |
| Fat | 15.7 g |
| - of which saturated | 8.88 g |
| Carbohydrates | 58.9 g |
| - of which sugars | 39.3 g |
| Fibre | 3.96 g |
| Protein | 7.87 g |
| Salt | 0.47 g |
Delivery and freight
Reviews
To leave a review, you should have previously purchased this product and log in to your customer profile.